Enjoy the beautiful sunrise and the great panoramic view on the breathtaking scenery of the unique landscape Elbmarschen with its endless wide horizons. You are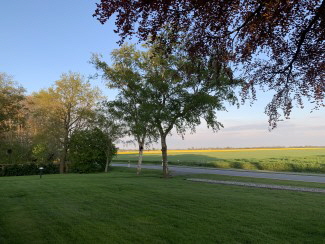 invited to stay and relax in the individually arranged guestrooms of the cherished estate. Spend your holiday time within a typical countryside atmosphere. Come and visit us to discover the regional leisure time facilities with various hiking trails for cycling and walking to enjoy the pure natural environment.
Have a look to the famous attractions in the surrounding cities, e.g. Glueckstadt with its multitude of seasonal highlights. The so called "Matjeswochen" which could be translated as "Special weeks of the salted herrings" is one example of various cultural events within the region. Furthermore Glückstadt offers you a favourite excursion around the new restored harbour and the historic city. For a trip you could pass the river "Elbe" with a ferry connection and visit the small village "Wischhafen" on the opposite riverbank the county of Lower Saxony.
Of course business travelers are always welcome. We invite you to relax after an exhausting day and enjoy the quite atmosphere.